4th Year in a Row, Prevagen® Selected As #1 Pharmacist Recommended Memory Support Brand in 2022 Pharmacy Times Annual Survey
Madison, WI – Pharmacy Times, the leading publication for pharmacists in the nation, in an independent survey conducted with U.S. News & World Report has again named Prevagen the #1 pharmacist recommended memory support brand.
Of pharmacists who recommend a memory support brand, Prevagen was far and away the number one recommended product. The survey shows that millions of recommendations are made each year to customers in the area of non-prescription memory support.
"For the 4th year in a row, we are honored to receive this recognition. Once again this demonstrates the continued trust that pharmacists have in the safety and effectiveness of Prevagen," said Tom Dvorak, Vice President of Sales and Marketing at Quincy Bioscience.
The list of all categories and complete results can be found at the Pharmacy Times OTC Guide.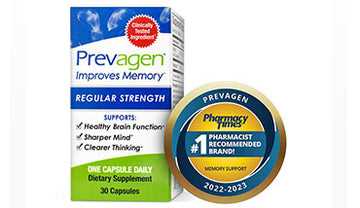 About Quincy Bioscience
Quincy Bioscience is a biotechnology company based in Madison, Wisconsin, focused on the discovery, development and commercialization of novel technologies to support brain health in aging, with a specific emphasis on memory support and cognitive health. Quincy Bioscience is set apart by its cutting-edge applications of the patented protein apoaequorin, which has been tested to show improvements in cognition and memory in clinical trials.