Prevagen® and U.S. Figure Skating Extend Partnership Through 2023
COLORADO SPRINGS, Colorado (Sept. 21, 2021) - Prevagen, the leading memory support and brain health supplement in America, has extended its partnership with U.S. Figure Skating as the organization's official Brain Health Supplement, the national governing body announced Wednesday.
In addition to a full complement of advertising throughout the U.S. Figure Skating Championships®, 2021 International Skating Union (ISU) Championship competitions, and the 2022 ISU Grand Prix of Figure Skating Series, Prevagen will present as the on-air sponsor of the ISU Grand Prix of Canada – Presented by Prevagen. The company will also sponsor the 2022 and 2023 Prevagen Skating Spectacular galas.
The Official Sponsor of U.S. Figure Skating will also become the title sponsor of the 2022 and 2023 Prevagen U.S. Adult Figure Skating Championships. Held annually for over 25 years, the U.S. Adult Championships traditionally features more than 450 skaters over the age of 21.
Prevagen will continue present a "Memorable Moments" campaign which will have a presence on both NBC and NBCSN telecasts, as well as U.S. Figure Skating's digital platforms. This collection of iconic figure skating moments began in conjunction with U.S. Figure Skating's Centennial Celebration.
"We are looking forward to continuing our partnership with Prevagen as the Official Brain Health Supplement of U.S. Figure Skating," said U.S. Figure Skating Executive Director Ramsey Baker. "Prevagen will help skaters and fans alike relive some of their favorite figure skating memories from the past, present and into the future."
Prevagen, which has been used by over 1 million consumers, is an over-the-counter memory support and brain health supplement that focuses on improving certain aspects of cognitive function.
"The Prevagen team is thrilled to continue our support of US Figure Skating," Prevagen Vice President of Sales and Marketing Tom Dvorak. "It has been very gratifying to honor and celebrate these amazing athletes over this past year by recognizing some of the most iconic moments in figure skating history and we look forward to keeping these memories alive as we continue the "Memorable Moments" campaign.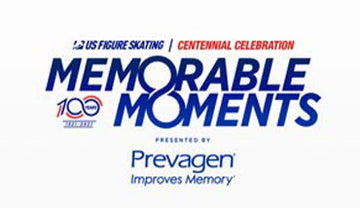 About Quincy Bioscience
Quincy Bioscience is a biotechnology company based in Madison, Wisconsin, focused on the discovery, development and commercialization of novel technologies to support brain health in aging, with a specific emphasis on memory support and cognitive health. Quincy Bioscience is set apart by its cutting-edge applications of the patented protein apoaequorin, which has been tested to show improvements in cognition and memory in clinical trials.