Prevagen® Extends Josh Bilicki Sponsorship; Celebrates Ten Years of Prevagen at NASCAR Chicagoland 300
MADISON, Wis. (Sept. 15, 2017) — Prevagen's sponsorship of Josh Bilicki is extended for the season finale race as he competes in the NASCAR XFINITY Series in Chicago. Prevagen first announced its sponsorship of Bilicki, a native of Richfield, Wisconsin, in August. Bilicki will race in the No. 78 B.J. McLeod Motorsports Chevrolet Camaro at the Chicagoland Speedway this upcoming weekend.
"I'm thrilled to have Team Prevagen again as my primary sponsor for this race," says Bilicki. "We're coming off my career best NASCAR finish at Road America, so I'm hoping that we can keep that momentum rolling. I've been very fortunate to have Prevagen as a sponsor over the last two months and build a solid relationship with them."
"We're thrilled to support Josh at the Chicagoland 300," said Dakota Miller, director of sales and marketing at Quincy Bioscience, the makers of Prevagen. "Josh has impressed us all with his poise and skill in his rookie year in NASCAR. We are also excited to bring back in celebration of the 10th anniversary of Prevagen our original Joey the Jellyfish logo and incorporate Joey in the car's colorful wrap."
This weekend's Chicagoland 300 NASCAR Xfinity Series race will be televised live on NBCSN on September 16 at 3:30 p.m. Eastern Time. All practices and qualifying will also be televised live.
Prevagen, a brain health support supplement, is clinically shown to help with mild memory problems associated with aging. Prevagen is safe and uniquely supports brain function. Prevagen is available in over 40,000 retail outlets nationwide including Walgreens, CVS, Rite Aid, GNC and www.Target.com.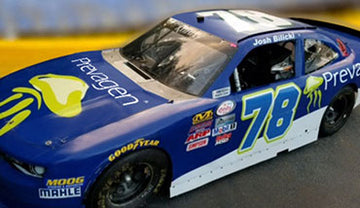 About Quincy Bioscience
Quincy Bioscience is a biotechnology company based in Madison, Wisconsin, focused on the discovery, development and commercialization of novel technologies to support brain health in aging, with a specific emphasis on memory support and cognitive health. Quincy Bioscience is set apart by its cutting-edge applications of the patented protein apoaequorin, which has been tested to show improvements in cognition and memory in clinical trials.