Prevagen Meets Quality Standards for NSF Contents Certified Program
Independent certification from a public health organization means Prevagen has been tested and certified to meet the requirements of NSF/ANSI 173, the American National Standard for dietary supplements
Madison, WI – – Prevagen from Quincy Bioscience recently earned independent certification from NSF International, a global public health organization. NSF certification helps consumers identify products that have been independently tested and certified to meet rigorous standards for quality, safety and label claims.
Prevagen is a dietary supplement that supports healthy brain function for normal age-related cognitive concerns through its use of apoaequorin, an ingredient originally discovered in jellyfish. Prevagen was recently selected as the number one pharmacist recommended memory support brand for the fourth year in a row in an annual survey of pharmacists conducted by Pharmacy Times.
"Completion of this rigorous certification program conducted by NSF International, one of the most respected independent product testing organizations, demonstrates our strong commitment to providing our customers with safe and quality products," said Mark Roeder, director of quality and manufacturing at Quincy Bioscience.
NSF International facilitated the development of NSF/ANSI 173, the American National Standard for dietary supplements, which is continually updated with the changing industry. To earn NSF certification, supplement products must be produced in a manufacturing facility that is inspected up to twice a year to comply with the U.S. FDA's Good Manufacturing Practice (GMP) requirements and industry best practices. In addition, NSF certified products undergo a variety of tests and reviews, including:
> Toxicological review of product safety, formulation and label claims
> Contaminant testing for harmful levels of specific contaminants like pesticides, lead and arsenic
> Label claims testing to verify what's on the label is in the package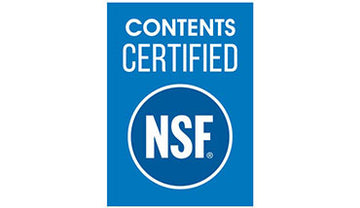 About Quincy Bioscience
Quincy Bioscience is a biotechnology company based in Madison, Wisconsin, focused on the discovery, development and commercialization of novel technologies to support brain health in aging, with a specific emphasis on memory support and cognitive health. Quincy Bioscience is set apart by its cutting-edge applications of the patented protein apoaequorin, which has been tested to show improvements in cognition and memory in clinical trials.